Keep the interior of your vehicle clean with a Canvasback dog cargo liner. We know active lifestyles can be messy, especially when you have pets. Your lovable furry friends can track mud, water, fur and more into vehicles, often causing permanent stains or damage. Dog hair can easily be wiped off our cargo liners, rescuing you from embedded dog hair in your vehicle carpet. Our dog cargo liners are customized for a wide variety of vehicle makes and models, including cars, SUVs, trucks and more. A Canvasback cargo liner is unique because it contours the entire cargo area which includes the back of the second-row seats and third seats (if applicable). Sewn to allow your seats to fold down, we offer a sleek cargo liner that maintains functionality and customizes your coverage.
In addition to maximum coverage and functionality, our dog cargo liners are made with waterproof or water-resistant backing fabric. Our cargo liners are available in 11 colors/patterns including:
Black

Mocha

Graphite

Dark Chocolate

Hawaiian

Camouflage

Pink Camouflage

RealTree

Black Plaid

Tan Plaid

Snow Camo
For over 20 years, Canvasback has been a leader of interior vehicle protection. Through our experience and customer feedback, we have created an extremely durable cargo liner that holds up to the daily wear and tear from pets.
We also know your furry friend has a big spot in your heart. Add the name of your dog and a paw print, your last name, team name, etc. to your liner for a fun touch. Order here!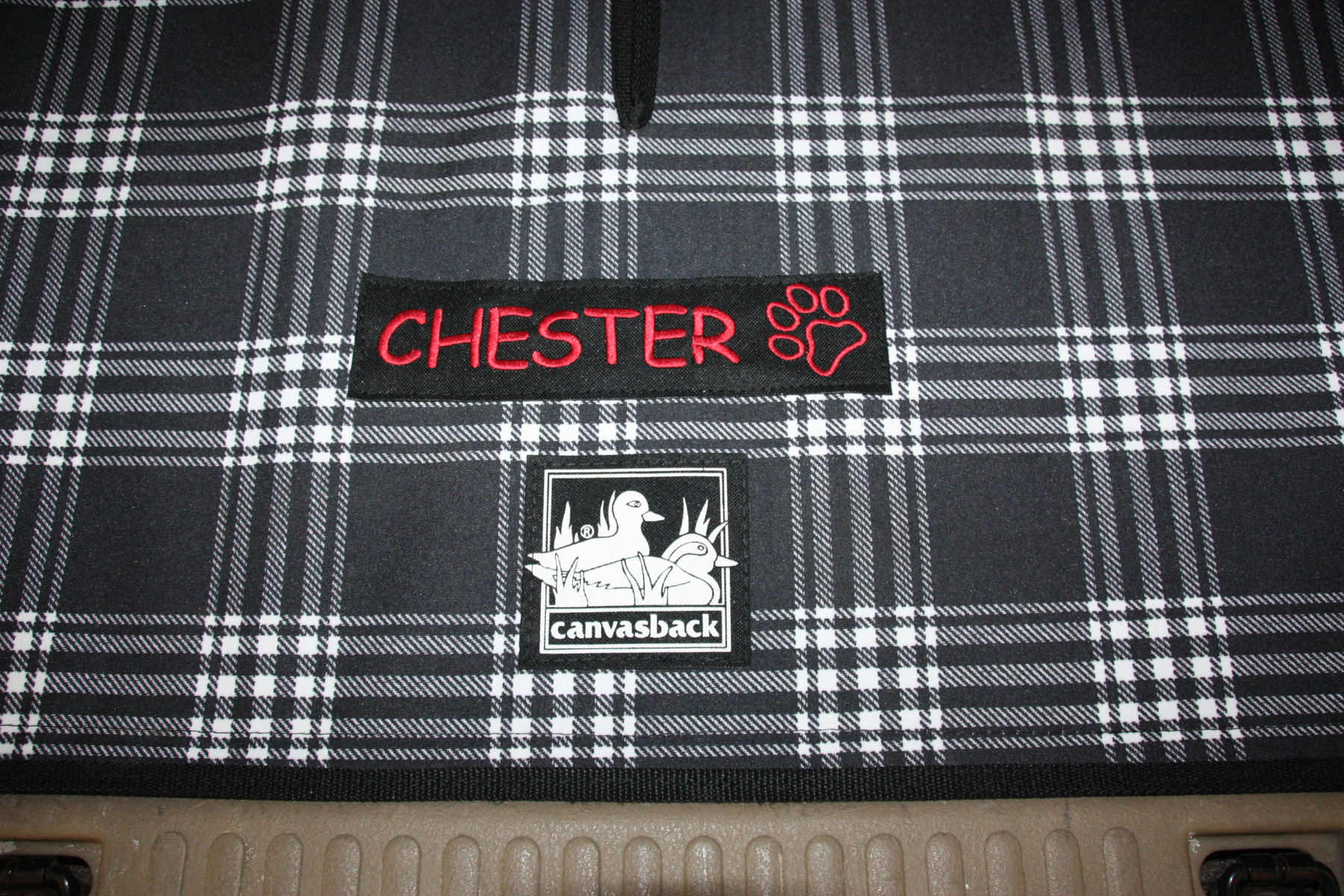 Ready to add protection to the interior of your vehicle?
Stop pet hair from sticking to the factory carpet in your vehicle and keep your backend protected with a Canvasback dog cargo liner. Find your vehicle make and model, select your fabric, and customize your configuration.
Raving Testimonials from Dog Owners
"This is hands-down the best thing I've bought for the interior of my Jeep! I have 2 Great Danes that love making a mess during car rides to the park and it was always such a pain cleaning up after them. I tried using sheets and blankets in the cargo space, but it would never work, which is why I decided to invest in a canvasback liner. Since installing, it has made cleaning after the dogs a breeze. It makes vacuuming dog hair much easier and the liner can be cleaned by simply wiping it down with a wet cloth. Do yourself a favor and buy one! (Don't forget to buy the side covers too)"
- Jackie, Jeep Wrangler JK 4 DR Cargo Liner

"Won't buy another brand. I am in love with this cover. It fits perfectly and doesn't move around when my dogs are on it. It helps to keep the dog hair out of the carpet and easy to keep clean. I love the way the red stitching looks on my TRD pro. I'm going to order the second row and passenger seat cover as well."
- Jessica, Toyota 4Runner Cargo Liner
"I have owned a Canvasback liner for my Jeep Liberty since 2009. It has been a life saver for my car. I regularly have dogs in my car - including a Great Dane. Muddy dogs, wet dogs - every kind of mess. It looks almost as good today as the day I bought it. I am finally retiring my Liberty (with the cargo area looking perfect!). I just purchased a new Canvasback for my new Renegade. Looking forward to 10 more years of worry free dog travel!"
- Heather, Jeep Cherokee Cargo Liner
"We have a Golden retriever, purchased the Cascada, and found Canvasback so that we can bring our best freind along on top down trips to the lake. We purchased all the items for this vehicle to protect and easily clean it after our fun adventures. We have experienced this product before and found that we love how it stands up to the abuse."
- Anonymous, Buick Cascada Cargo Liner
"I purchased the floor and walls and have been very happy with my purchase. I am about to purchase my second set. If you haul dogs in your Audi, you will wonder how you lived without them. All pet hair just wipes right out. Great product and you can tell this is a company that cares. I tell everyone about them!"
- Austin, Audi A4 Allroad Cargo Liner
"We absolutely love our canvasback cargo liner. Diesel our lab can safely ride in the back without causing any damage or issues on our back seats. It was such a sweet gesture to send dog treats with the order! It really personalized the order! I have recommended canvasback to my veterinary colleagues."
- Carly
A Sweet Surprise from Chester!
We know your dog will love our Canvasback cargo liner as much as you do! As a thank you for shopping with Canvasback, our CMO,
Chester,
has a special treat for your furry friend. Look for a dog treat when your package arrives!