If your questions are not listed here, please contact us
How is Canvasback different from other interior vehicle protection? 
Our liners contour the entire cargo area which includes the back of the second row seats and third seats if applicable. The goal is when you lay your seats flat for maximum cargo room, we have you covered! All seats work independently. Depending on the vehicle configuration, the custom cargo liners can come as either a one piece or have several pieces. Access points, such as; d-rings, child restraints, storage latches, etc. can be ordered with or without full coverage. We use a Hook/Loop fastening system where Hook tabs are sewn under the liner to grab the carpet in your car, keeping the liner securely in place.  
Our current production time is approximately 2-3 weeks. Please keep in mind that all of our products are made-to-order right here in Long Lake, MN - start to finish! If it has been longer than the quoted time range on your order confirmation email, please contact us for an update!
We send out a shipping confirmation containing tracking information as soon as the package has been shipped. Be sure to check spam/junk filters if it is past the quoted time on your confirmation email.
Change: If you would like to change the color/pattern/cutout options of your Canvasback products, please contact us immediately as there may be costs associated with the change. Please provide the order number you are referencing when adding on products. In some cases, if a change is made late in the production cycle, this may result in a delay in receiving your order. It is always best to reach out to us right away so we can get that changed/updated for you!
Cancel: If you cancel your order before it is shipped, we will refund the entire amount of your payment. If you cancel after your order has shipped, we will refund the purchase price less shipping after the returned item has been received by Canvasback.
All of our products are made-to-order in Long Lake, MN! We take great pride in the craftsmanship of our work being Made In The USA! Our product offering is highly customizable - as a result, we typically carry very small amounts of inventory. Want to see the journey of how your products are made? Check out the video below!
Shipping is FREE to all contiguous states on orders equal to and over $100, and in most cases, we ship FedEx Ground.
Orders less than $100:
$1-$29 $5 Shipping
$30-$99.99 $13 Shipping
Shipping rates for orders sent to AK, HI or Puerto Rico and International destinations are:
| | |
| --- | --- |
| Alaska | $20 |
| Hawaii/Guam | $20 |
| Puerto Rico | $20 |
| Canada* | $50 |
| Other outside US | $60 |
   *Shipping outside the US includes customs, duties, tariffs other applicable taxes and fees.
Canvasback has access to all major shippers and our goal is to choose the shipping option that gets your order to you quickly and accurately. If you have a shipping preference, please contact us and we will do our best to accommodate. It is also our goal to keep shipping costs as low as possible for our customers outside the contiguous US.
If shipments are returned as undeliverable for any reason, Canvasback will credit the purchase price of your product less the cost of shipping. If you ask us to re-ship, you are responsible for re-shipping charges.
We ship our packages in pretty sleek packaging so it is very possible that your cargo liner could fit in your mailbox. Be sure to check all around your property as it often times shows up. 
Unfortunately, we cannot be held responsible for packages that go missing after the delivery takes place. Most of the time our carrier provides a photo of the package having been left at your doorstep or porch. If the package was not delivered to the address that was provided at the time of purchase please let us know and we will talk to our carrier about this mistake.
Hook & Loop is the generic name for the fastening system similar to Velcro®[1]. The hook side is the rough side that grabs the softer loop side, providing a strong bond that can be pulled apart when needed.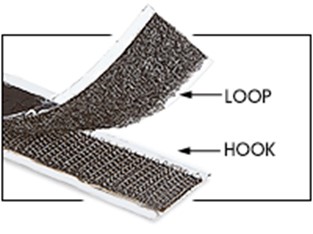 [1] Canvasback is not associated with the brand Velcro®.
Our liners attach with a hook & loop fastening system. On the underside of our liners; we sew hook tabs/strips that grab the carpeting when you lay the liner down on the carpet. In most cases, these hook tabs stick very well to the vehicle's carpet. However, hook tabs do not stick to all carpets, so some vehicles require self-adhesive loop strips that adhere to the carpeting to act as "carpet replacement." It will be listed if your vehicle's carpet requires self-adhesive in the product description.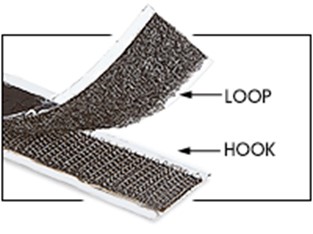 Please view the video below on how the self-adhesive velcro works:
Below you can find the two different types of cargo liners we offer and how to install each one of them in your vehicle.
Cargo Liner with Standard Hook & Loop
Cargo Liner with Self-Adhesive Hook & Loop
Self-Adhesive Preparation
Still having trouble? We do have some vehicle-specific installation videos that can be found on the Canvasback YouTube Page!
We obtain all of our patterns to make our products from our local dealerships. We try to stay on top of newly-released vehicles, but sometimes we are limited by the local inventory/availability around us. If your vehicle's year/model is not listed, please contact us below and we will add you to our list of inquiries so that you may be notified when it becomes available on our website!
The Mocha, Black, Graphite and Chocolate fabrics are a rugged 600 X 300 poly denier with a waterproof PVC backing. Print fabrics are a 600 x 600 poly denier with heavily sprayed urethane backing for water resistance. It's basically waterproof. (We've tested, but manufacturer says water resistant.) The material is fairly thin and light, but don't let that fool you! This is tough stuff.
Check out our Fabrics Page to see our 11 unique options!
Due to the waterproof/resistant nature of our products, you can clean the cargo liner directly in your vehicle. Use warm soapy water with a soft brush or sponge to clean. We do not recommend using a washing machine.
For step-by-step instructions, visit our Cleaning Guide!
We take pride in our quality workmanship and make each Canvasback liner by hand. As a handmade product, there may be some variations.
If you are not satisfied with your Canvasback product for any reason, email us immediately at: [email protected] to receive return shipping instructions. We will provide instructions on how you may return the product for a full refund of your purchase price within 30 days of receipt, provided it is in the original condition - free of dog hair, scratches, any signs of use. 
All our products are made-to-order, meaning that we do not keep inventory of our products. As a result, we cannot provide refunds for returns received 30 days after delivery of product. Consideration will be given for returns over 30 days based on circumstances, but refunds will be issued in the form of a credit towards a future purchase. Please reach out to us as soon as possible if you are considering a return. If a liner is returned with any signs of use and we are still able to resell for retail price, it is subject to a 20% cleaning fee.  If the liner is returned with any signs of use and we are unable to resell for retail price, the refund will be $100. 
*If the liner has self adhesive, please remove & discard before returning. Damages are common in returned shipments with self adhesive still on our products. Products returned to us with self-adhesive velcro damage will be subject to a 20% charge off the cost of products returned. Please view this video on proper removal for products with self-adhesive:
Products with manufacturing defects will be repaired or replaced at no cost to you. Please view the Warranty section below for a list of manufacturing defects.
Incorrect orders will be handled on a case-by-case basis. Customers who order incorrectly will be responsible for all return shipping costs, both to our facility and back out again.
Canvasback can not accept returns for custom orders, special projects or monogrammed products. Accent Stitching pieces are subject to a 20% restocking fee.
Any returns on International orders are the customers responsibility, as long as Canvasback, Inc has sent you the correct liner off your order sheet. PLEASE make sure you order correctly by reading the description and viewing the photos before placing your order. Returns recieved back in original condition will be credited the purchase price.
Please remember that liners are made of fabric and they are not indestructible, as rugged as they may be. If you have damaged your liner and need repair or have questions about repair, please email us at [email protected] with the details of the problem. We are always happy to discuss cost-effective repairs.
Discounted Liners:

Our Discounted Inventory Sale features products we have on hand and are ready to be shipped out! These items are brand-new liners + add-ons! Availability for these products is limited and they are available until gone. Items here are priced accordingly. No coupon code needed. 

Important Note: Images shown are of the specific vehicle to show design and functionality of the cargo liner, certain vehicles don't have a specific photo of the fabric that is listed. Please read all product descriptions and take note of the color as it is often diffrent than the image shown. Please review your car make, model, and year to see details and photos for your specific vehicle. This can be viewed in the product dropdown menu or in the product finder at the top of the home page. This will be helpful before you purchase so you know exactly what the liner is covering in the car.  Different vehicles have different configurations. If you are adding on new products with our discounted inventory, the production time will still follow our 4-6 weeks production cycle. For pictures of our fabrics/colors, please visit our Fabrics Page. Discounted Liners are sold as listed. If you have additional questions, please contact us at [email protected].

Rescued Liners:

Our Canvasback Cargo Liners are made by hand and specific to order. Occasionally, mistakes are made, flaws go unnoticed, or items are returned. These Canvasback Cargo Liners still need a home!
Gently used – returned liners that might have a few marks

Permanent marker bleed-through from the backside – from the product SKU # written under the liner

Small fabric flaws – color differences, minor fabric imperfections, etc.

Liners that utilize older logos or other materials no longer in use, such as zippers
These things will not impede the use or durability of your Canvasback Cargo Liners should you decide to "adopt one" and take it home. Please review your car make, model, and year to see details and photos for your specific vehicle. This can be viewed in the product dropdown menu or in the product finder at the top of the home page. This will be helpful before you purchase so you know exactly what the liner is covering in the car.  Different vehicles have different configurations.
To find out more information about a specific Rescued Liner, please email 

[email protected]

. Photos are also available upon request.

DISCLAIMER: Rescued liners are not eligible for sales or promotions. Rescued Liners are sold in "as-is" condition. You will have a 10-day period to inspect and approve your liner. Should you decide to return it, you will be responsible for all shipping costs, unless the issues/concerns fall under Canvasback's Limited Warranty with the EXCEPTION of known expressed defects. Images shown are not the actual rescued liner and are only shown to display design and functionality of the cargo liner.
Canvasback is proud to offer our customers a Limited Warranty on its product. Canvasback warrants that your product(s) will be free from manufacturer defects in materials and workmanship for 6 months from purchase. This warranty is nontransferable and proof of purchase is required for all warranty claims. This warranty does not apply to Rescued Liners.
Examples of conditions that are NOT considered defects in materials or workmanship, and NOT covered by warranty are:
Fabric tearing or ripping by sharp or foreign objects;

Conditions arising from normal wear and tear;

Damage from tampering with any part of the product;

Damage from misuse or abuse of the product or component;

Damage from animal chewing;

Damage from laundering or dry-cleaning;

Fabric fading due to sunlight or age;

Fabric stains or zipper separation due to misuse; and

Other damage that is not the result of defects in materials or workmanship and not listed above.
Except for the limited warranty as provided above, ALL PRODUCTS ARE PROVIDED "AS IS" WITHOUT WARRANTY OF ANY KIND, EITHER EXPRESS OR IMPLIED, INCLUDING, BUT NOT LIMITED TO, THE IMPLIED WARRANTIES OF MERCHANTABILITY AND FITNESS FOR A PARTICULAR PURPOSE.
We try to accommodate special requests, depending on the project. Please feel free to inquire!
We've tested grippier fabrics and unfortunately the same thing about our fabric that makes them slippery is what makes them so easy to clean, and the grippier fabrics also grip the dirt and hair.
A few solutions; a towel or blanket in the back, a canvasback dog bed, which has a grippy mesh on the bottom and wont slide around, or a crate which is recommended by the American Kennel Club as the safest way to transport a dog.
Our self-adhesive is designed for a strong hold and clean removal of your Canvasback Cargo Liner. To remove, start at a corner and slowly peel back. Our self-adhesive can sometimes leave behind a small amount of residue, which can be easily removed with a clean rag and isopropyl alcohol. Our self-adhesive is rated up to 212 degrees fahrenheit.
We have Free Shipping on all orders over $100 in the Continental 48 states - no coupon code needed! We also have a discount for Military Personnel. If that applies, please send verification of your service (i.e. ID, email from .mil) to [email protected] and we will send you a one time use code to use at checkout that is good for $20 off a purchase of $200 or more. We don't often have coupons or promotions – we are handmade in the USA and working hard to keep our pricing steady despite all of the price increases we are seeing from all of our vendors. You can find more information about that here: https://www.canvasback.com/why-no-black-friday-sale 
Free Shipping
U.S. orders over $100
30 Days Return
Our goal is a happy customer
Secure Payment
100% secure payment
Top Customer Care
We provide dedicated support